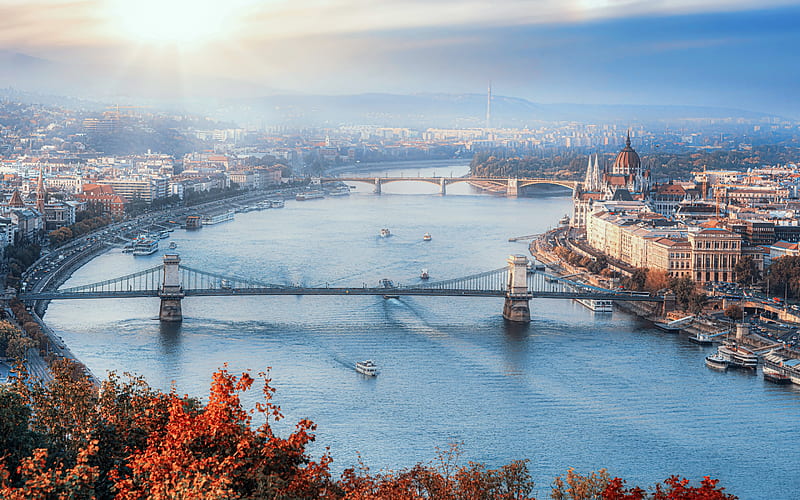 Explore Budapest's Autumn Activities
As summer gracefully gives way to the golden embrace of autumn, Budapest emerges as a charming destination that continues to bask in warm sunlight during September while preparing to showcase its vibrant fall foliage. The Hungarian capital's neighborhoods come alive with captivating sights and experiences, making it an ideal time for locals and visitors alike to partake in a variety of activities. From leisurely strolls through tree-lined avenues to indulging in local flavors and immersing oneself in culture, Budapest offers an array of autumn activities that capture the essence of this magical season.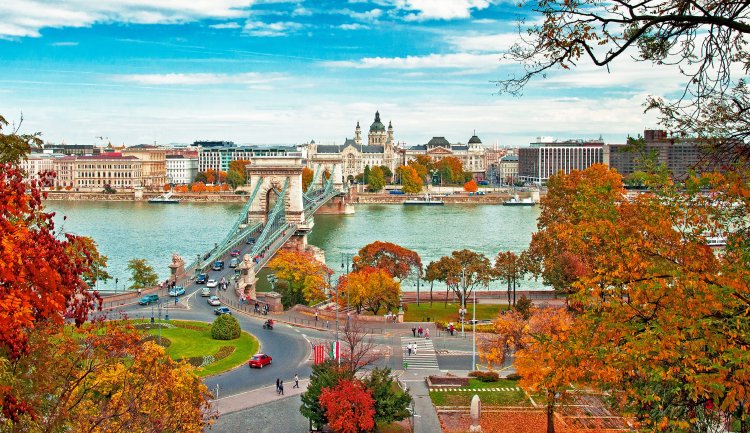 source- PackMoreIntoLife
September in Budapest is a transitional month where summer lingers, allowing for delightful neighborhood exploration. The warm and sunny days are perfect for leisurely walks through the city's streets, parks, and avenues. Areas such as Buda Castle and the Castle Hill, and Gellért Hill offer captivating views of the city adorned with the soft hues of autumn. Margaret Island's gardens and open spaces provide an ideal setting for picnics and serene contemplation, while the bustling atmosphere of City Park (Városliget) invites families and friends to savor the last hints of summer.
As October arrives, Budapest undergoes a transformation as the trees don their vibrant coats of red, orange, and gold. Streets turn into picturesque alleys of colorful leaves, creating a surreal panorama that invites romantic walks and vibrant Instagram moments. Grand Boulevard (Nagykörút) and Andrássy Avenue are particularly enchanting during this time, with their tree-lined paths forming a canopy of autumnal beauty. The iconic Heroes' Square and its adjacent City Park are radiant, offering an incredible blend of culture and nature.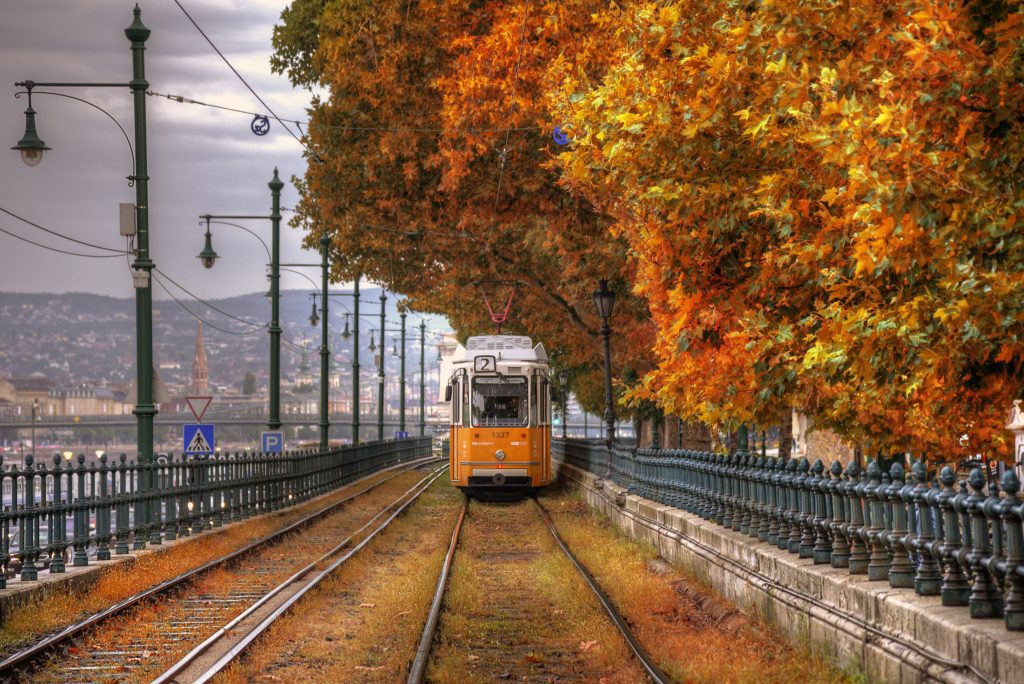 source- HaveFunBudapestCaptivating park strolls and Avenues
Budapest's plethora of parks, such as City Park and Gellért Hill, become enchanting playgrounds for those seeking leisurely walks and captivating vistas. The rustling of fallen leaves underfoot adds a poetic touch to each step. The graceful beauty of these parks is best complemented by savoring local delights from nearby bistros and cafes, offering a sensory experience that combines visual and culinary pleasures. If you would like to discover the most beautiful pedestrian streets in Budapest, we recommend that you take a look at this article
source- TripSavvy
Rainy days ahead? Don't worry, we've got you covered!
For days when the weather is less forgiving, Budapest's numerous museums beckon with their diverse offerings. The Hungarian National Museum, the Museum of Fine Arts, and the Hungarian National Gallery provide insights into the country's history and culture. If you're looking for inspirations on what museums should you add to your list, we encourage you to check out our blogpost about it.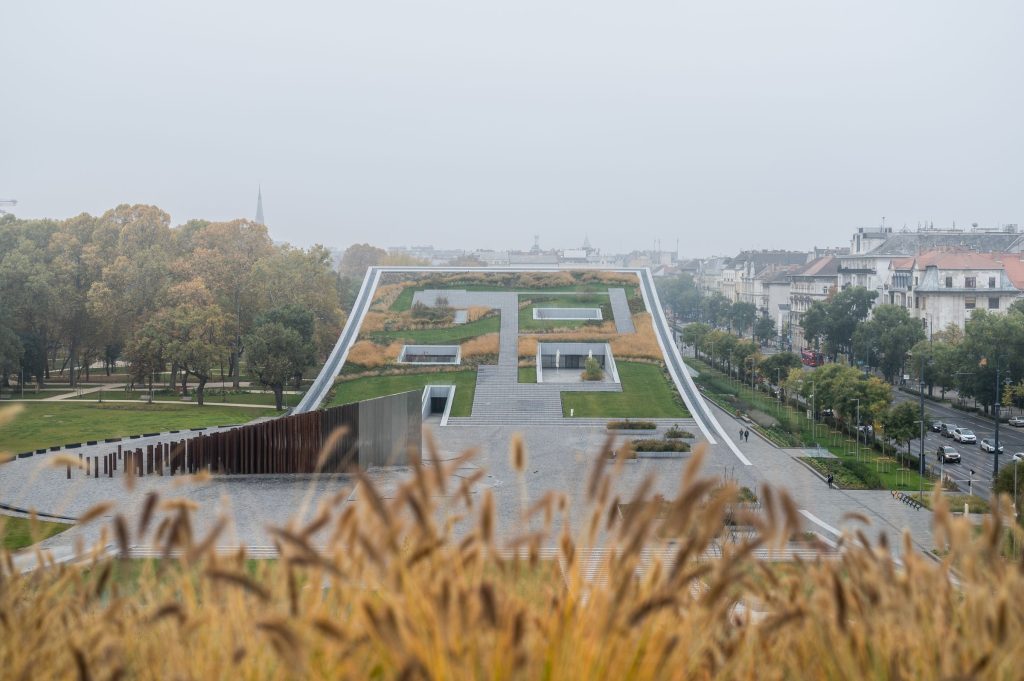 source- LigetBudapest
Simultaneously, the cozy interiors of local bistros and restaurants offer a chance to savor Hungarian cuisine, which is a rich tapestry of flavors and traditions. No matter which area are you currently at, you'll definitely find local cuisines. Budapest's culinary scene is a treasure trove of delights, offering comfort food that perfectly complements the autumn ambiance.

For those seeking intellectual stimulation, Budapest's libraries beckon with their serene atmosphere and vast collections. The grandeur of the Metropolitan Szabó Ervin Library and the modern elegance of the University of Public Service Library offer inviting spaces to immerse yourself in literature or work on personal projects.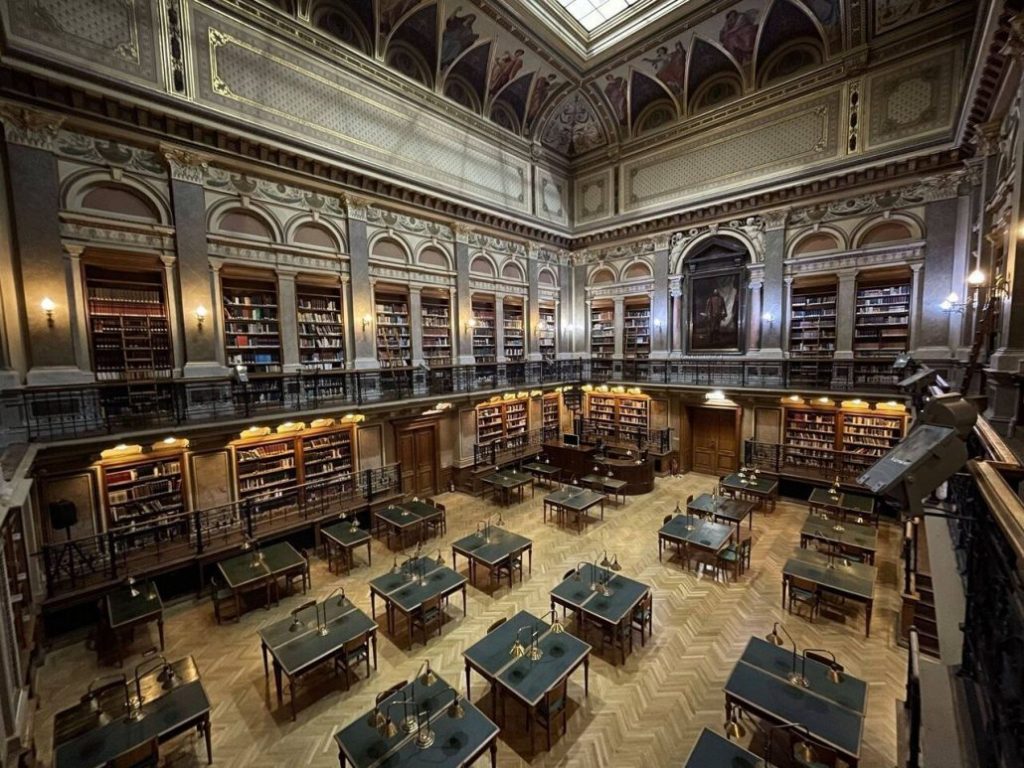 source – Daily News Hungary
Explore the city's vibrant market halls, such as the Great Market Hall, which brims with seasonal produce, artisanal goods, and traditional treats. Engage with locals, sample the freshest ingredients, and gather unique souvenirs that reflect Budapest's rich culinary heritage.
source- HelloJetlag
Mesmerizing Danube River Cruises
The Danube River, a timeless presence in Budapest, takes on an even more enchanting aura during autumn sunsets. As the afternoon sun bathes Budapest in a warm glow, embark on a Danube River cruise to witness the city's captivating autumn sunsets. Cruises offer a unique perspective of the iconic landmarks, including the Buda Castle, Hungarian Parliament Building, and Chain Bridge, as they bask in the soft light of the setting sun. Indulge in the peacefulness of the river and the stunning vistas that paint the sky in shades of gold and orange.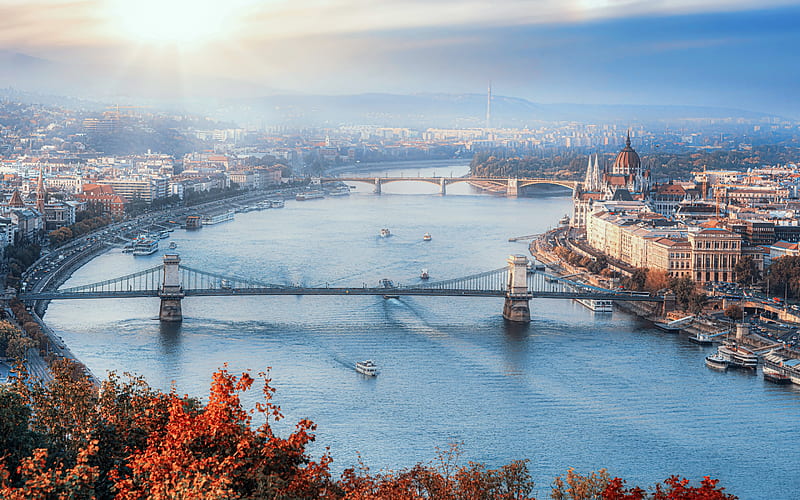 source – PeakPx
Enchanting escapades for all ages: Children's Railway and more
Families can partake in memorable autumn activities too. The Children's Railway, operated by children under adult supervision, takes passengers on a scenic journey through the Buda hills. Alternatively, the Zugliget Chairlift offers panoramic views of the changing landscape, providing a sense of adventure for young and old alike. If you're looking for more family activities in Budapest head to this article of ours.
source- VacationsByRail
Unconventional Exploration
Kerepesi Cemetery 
Step off the beaten path and explore the Kerepesi Cemetery, an open-air museum that pays homage to Hungary's historical figures. Wander through the atmospheric pathways adorned with fallen leaves, reflecting on the past while embracing the present season.
Dohány Street Synagogue

Discover the Dohány Street Synagogue, a remarkable symbol of Budapest's rich Jewish heritage. With its intricate architecture and profound history, the synagogue offers a chance to gain insights into the city's diverse cultural tapestry.
source– trip.com
Budapest's autumn unfolds as a captivating and multifaceted season, offering a rich blend of cultural experiences, picturesque landscapes, and activities for all ages. From leisurely strolls through charming neighborhoods to exploring indoor havens of art and gastronomy, Budapest embraces autumn with open arms. As the leaves gracefully descend and the sunsets cast a warm glow over the city, autumn in Budapest is a time to cherish the beauty of change and the moments of serenity it brings.