Beaches, spas, fitness in Budapest
Beaches, spas, spas in Budapest
Budapest is also called the fair of waters. countless springs of healing, mineral and drinking water ensure that it supplies the beaches and spas of Budapest all year round.
Bathing lovers can choose from countless options during their trip to Budapest. In summer, the beaches of Budapest await those who wish to cool off, and the spa and wellness baths are open all year round for those wishing to recover and relax.
But where is it worth visiting if you only have 1-2 days to bathe during your stay here? In our article we have collected the best bathing places in Budapest.
1., Széchenyi Spa and Swimming Pool
One of the largest spa complexes in Europe. The spa offers medical and wellness services and saunas in 21 pools.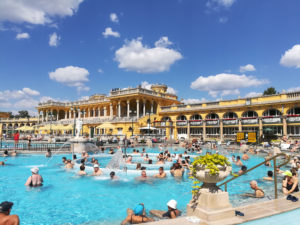 2., Gellért Thermal and Spa
The building, built in 1918 with Art Nouveau features, allows guests to relax in one of the best quality spas in Budapest. If you are visiting Budapest, be sure to include a visit to the spa in your program.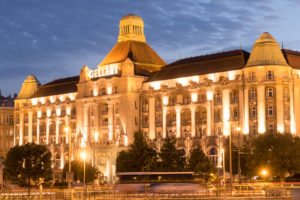 3., Rudas Bath
Rudas Baths opened its doors more than 450 years ago. Today it has become a real wellness center. It offers saunas, steam cabins and a wonderful panoramic rooftop pool.
4., Aquaworld Resort Budapest
It is a real family program that even the smallest will definitely enjoy. Aquaworld has countless adventure pools, saunas, steam rooms, massages and a slide.
Mandalay Day Spa
If you want to relax and unwind, be sure to visit the Mandalay Day Spa. You can expect a perfect refreshment thanks to its luxury pampering programs.
6., Páskál Spa and Bath
The Páskál Spa and Bath is an unmissable program in the summer heat. Visitors can also find a plunge pool with spa, hot and cold water, as well as adventure pools and a water bar.
7., Palatinus Bath
The Palatinus Bath on Margaret Island is the most popular beach in the capital. The beautiful park with ancient trees awaits families and hikers with a wave pool, a foot tennis court and a slide park.
8., Tide Beach
Haven't tried the drifting yet? You can do it at high tide. There are countless entertainment options here, including outdoor fitness machines, adventure pools, hot tubs and 4 huge pools. Don't miss out if you go to Budapest in the summer!
Sports in Budapest (paid and free active opportunities)
You don't have to give up active sports during your visit to Budapest. There are also fitness rooms in the hotels, which are free for guests in most cases, but if you don't have enough machinery, you can move your muscles in these places:
GetFitRiver fitness
The fitness room with the largest machine park in Hungary, where you can not only train, but also take part in a pleasant aerobics class.
Park for wellness and fitness
Not only can you be muscular, but after a sweaty workout you can relax in the wellness area.
Oxygen wellness
Thanks to its excellent machine park, you can move yourself from head to toe, and you can take part in exciting spinning, dance aerobics, hipp-hop, or other body-shaping, fat-burning classes. It has a great spa area, so you can relax after a workout.
Life1 Corvin
The most up-to-date gym in Pest, as it not only has an extremely modern fleet of machines, but you can also choose from 40 different types of classes every day, from dance aerobics to a relaxing yoga class.
Lovers of Street workouts will also find a place for them in Budapest. Street Workout is becoming more and more popular in Hungary as well, you can find the opportunity to practice your own weight training here in Budapest:
Mom Park
Bull Park
Bottomless lake
Tabán
City Major
Run to the Island!
On the running track on Margaret Island, thousands are circling every day. The distance is 5300 meters, which can be completed on a rubber track. You have a wonderful panorama at all times of the year.